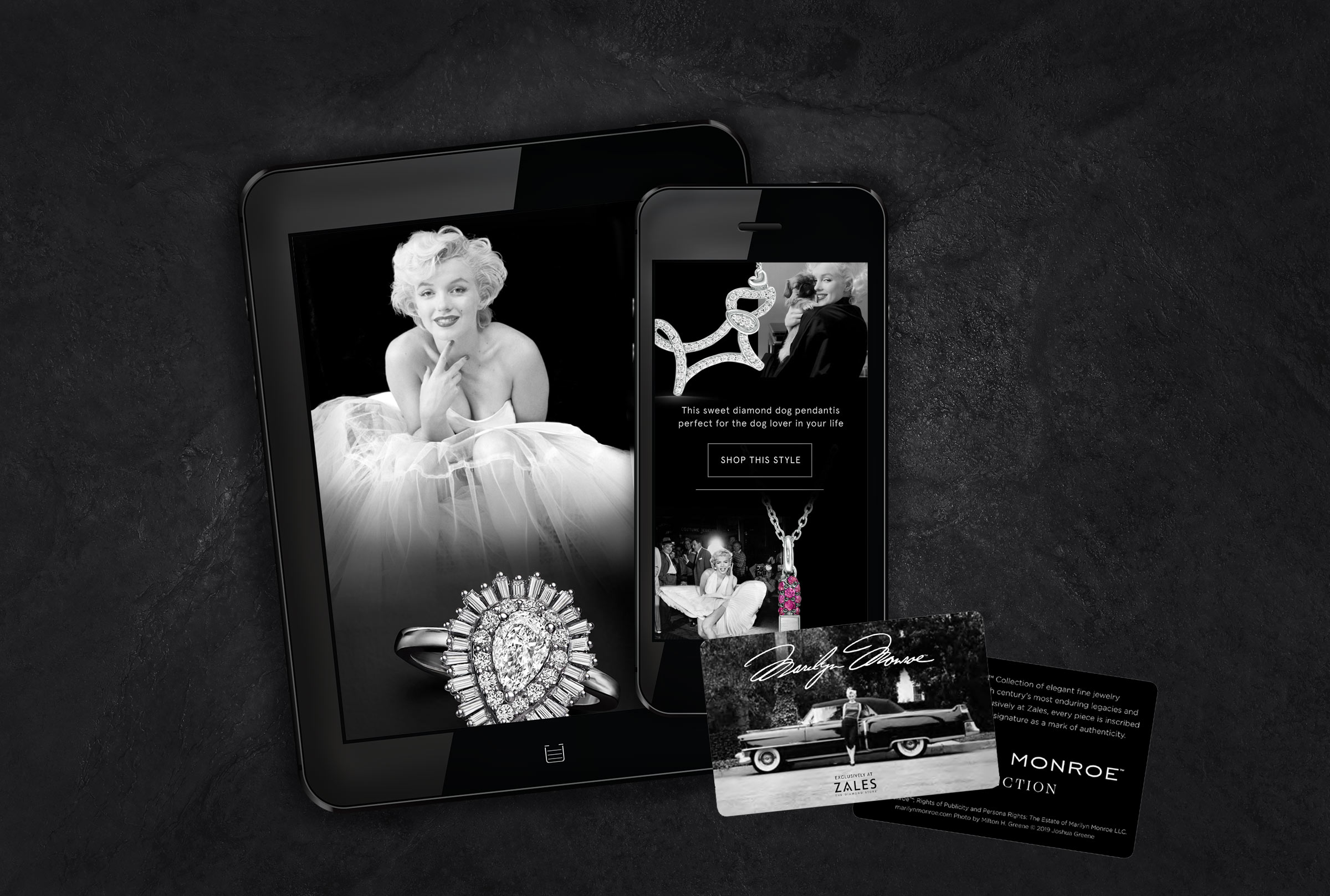 My Role - Senior Web Designer
Product Duration Start to Launch: 8 Months
Team Responsibilities Included:
Brainstorming to form the Concept

Customer Journey Maps

Qualitative Research

Branding Strategy

Creative Strategy Email/ Social

Ideation UX Design

Animation Ideas

Creative Mood Boards

Web Design Desktop/ Mobile

Development

Loading content into the CMS

Perform usability testing
We are all stars and Deserve to Twinkle
--Marilyn Monroe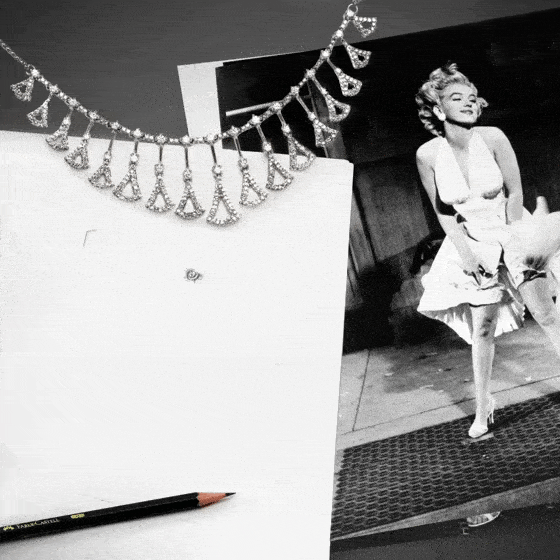 Problem Statement
Create a complete Marketing Campaign for the Marilyn Monroe™ Collection channeling the actress's life and the 65 pieces of fine jewelry created by Zales. Communicating a consistent message through all marketing channels was vital in this 360 Marketing messaging through television, mobile, digital, and social media. This collection's exclusiveness needed to resonate for the entire customer's buying journey, from discovery to purchase to repeat customer.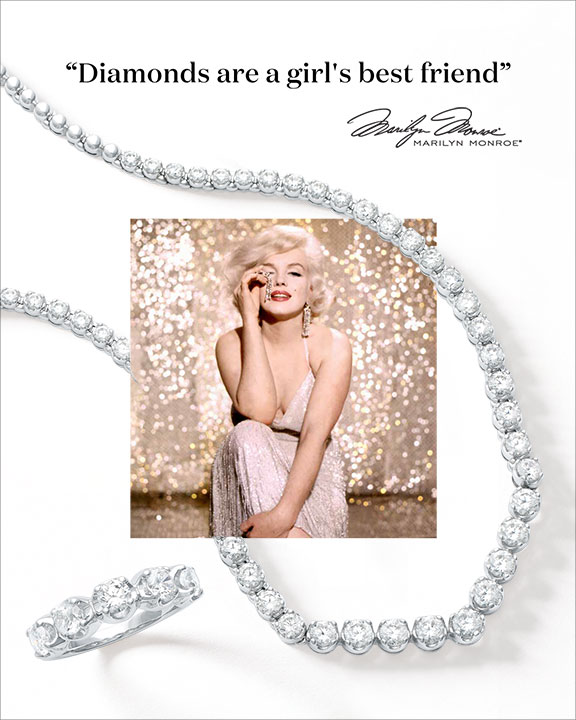 Research and User Group Testing
This project was kept secret from the regular day-to-day activity for over six months through private meetings and project code names. While creative guidelines and new brand style guides were being created in Dallas, Texas, merchandise focus group tests took place in Akron, Ohio and New York city with Signet Jeweler's HQ and Marilyn's Agency.

Creative Process and End Result
How did we create a digital presence inspired by American actress and icon Marilyn Monroe™? It starts in the lyrics, "But diamonds are a girl's best friend" as said in the song famously performed by Marilyn Monroe™ in the 1953 film Gentlemen Prefer Blondes.
We told the story with today's twist of a digital campaign that reads, "I am my own muse. I am a diamond," to show a contemporary woman. The name Marilyn Monroe™ and now NEW jewelry product is already stunning and glamorous in itself. We had to have a strong visual style and thorough understanding of how typography, layout, color, images, and interactivity would impact conversion with the Zales Customer and current Marilyn Monroe™ fan.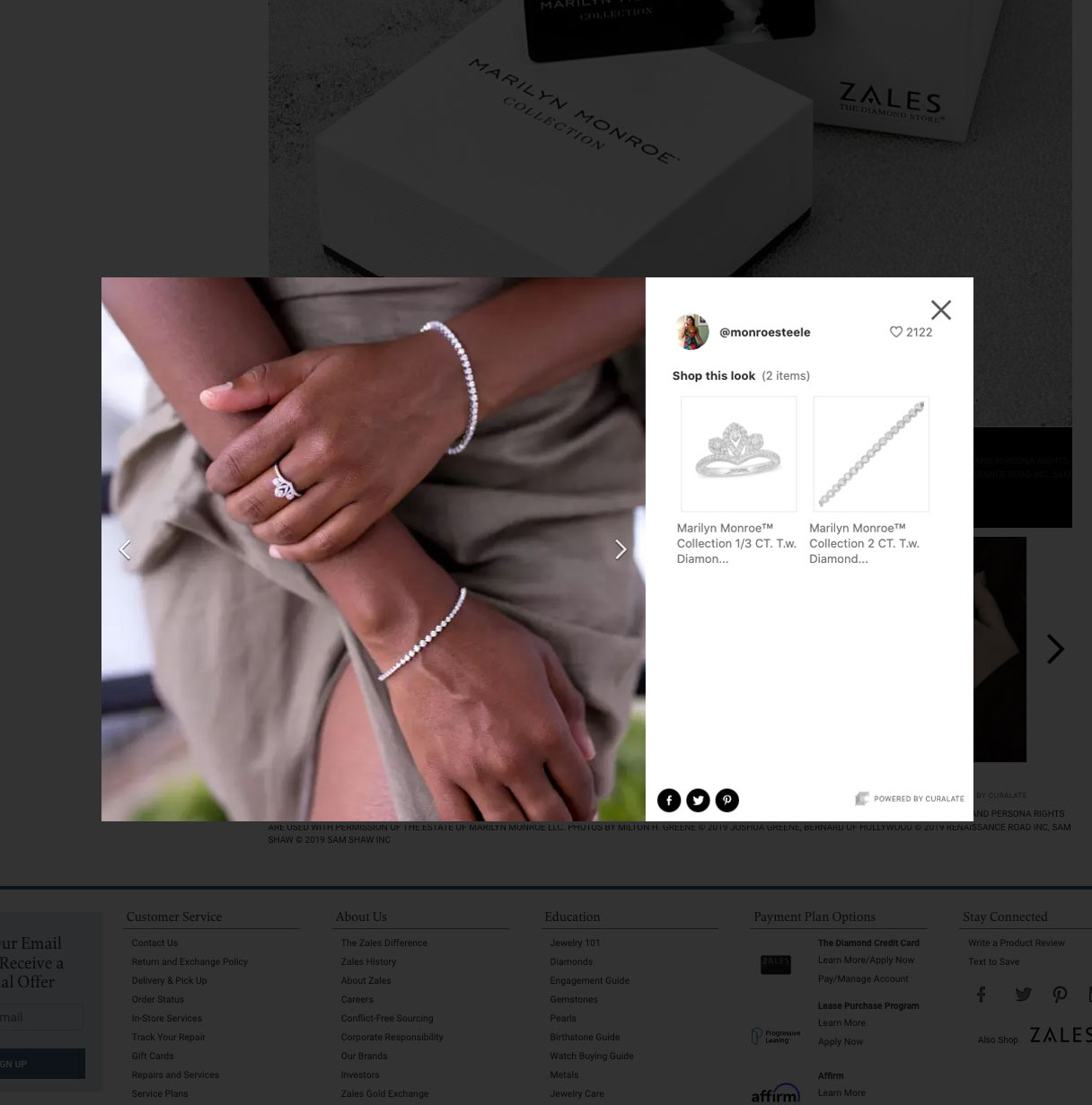 Experience Notes
The Marilyn Monroe Jewelry Collection project was exciting and unique compared to any other project I have worked on. This collection is exclusive to Zales, Peoples in Canada and Zales Outlet. The Marilyn Monroe Estate has its own Agency and it was an incredible experience to work with them as well. The relationship with Marilyn's Agency, the Zales Marketing Brand Manager and I were very positive but a 24/7 project all in its self. This project would have never launched had it not been for our dedication and love for this Hollywood icon. The result is a jewelry collection that will last forever. At the time of launch, my total photoshop files consisting of Adcepts, Home Pages, Emails, Certificates of Authenticity(COA) cards and Special Projects equaled over 200 digital creative files for a campaign that included only 27 total assets at launch.